Get access to our webinar today.
Our ergonomics and the agile workplace wellbeing agenda webinar, in partnership with BT, explores considerations to protect the health of employees.
Ergonomics and design form an important part in providing workplaces and systems of work that accommodate the individual by ensuring that they are able to work efficiently, comfortably and free from harm.
The dynamic changes that have occurred due to the pandemic means that employers and practitioners need to consider how the principles of ergonomics can still be achieved in whatever workplace.
This webinar, in partnership with BT, explores what is able to be achieved and needs to be considered to protect the short and long term health of employees.
This webinar focuses on:
The principles of ergonomics and how they apply to a varied workplace and population.
Recognising what agile working means and what needs to be considered.
How ergonomics supports a wellbeing programme.
Pragmatic solutions from real examples.
If you would prefer, you can read the transcript here:
Webinar transcript: Ergonomics and the agile workplace wellbeing agenda
01:10
Welcome, everybody, to the Praxis42 webinar on ergonomics and agile working wellbeing agenda. I'm Tracy at Praxis42 and today I'm joined by our expert panelists Lina Chauhan. Lina works for BT Group plc as an ergonomic Musculoskeletal and wellbeing specialist driving forward optimal health and wellbeing in the workplace. Lina has a clinical background in advanced occupational health and musculoskeletal health physiotherapy and has worked in industry for 15 years.
And Adam Clarke, MD of consulting and practice for two and he has a background in occupational health and safety for over 15 years, working with his clients to understand their challenges and tailoring bespoke solutions.
Technical issues here, but you will know by now that your mic will be muted. There is a q&a button at the top of your screen where you can ask questions throughout the webinar. And there'll be addressed in the q&a session at the end of the webinar.
We'll do our best to get to all of the questions, but any that we don't have time to answer today will be answered and put up on our resource's pages after today's session. We will also have some downloads related to the event and you'll be able to share the event on social media. A recorded version of today's webinar will be available after the event and a link will be sent up. So welcome, Lena. Thanks so much for joining us today. I will now pass over to you Lina and Adam. Thank you.
03:09
Thank you. All right. So shall I get going. So as Tracy said, I work in BT within the health and wellbeing, health safety and wellbeing team as an ergonomic mosquito wellbeing specialist. My background is as a clinician, I'm a physiotherapist. And I've been working in industry for a very long time. And it's those skills and knowledge that I've used within the DSU projects, which I'm going to talk about today.
Though, if we move on to the next slide. So, the two projects I'm going to talk about fall under two workstreams. Under prevent and support. Under prevent, I'm going to talk about a new DSU self-assessment that we've put together which goes beyond the regulatory requirements and has much more of a broader health and wellbeing overly and under Support. I'm going to talk about a new research project that we're working on, where we're looking at utilising health in the workplace, to once again, go beyond the risk of injury and have much more of a health and wellbeing perspective on the employee can pick and move on to the next stage.
So, before I dive into those projects, where I wanted to do is give you a background in terms of what fed into the development in the for the content for both projects, I'm going to give you an overview of mosquito health in the workplace.
So, if you've gone to the next slide, sorry, thank you. So as an overview in terms of numbers for mosquito health can affect pupil in all age groups, one in eight of the working age population report to having an MSK the prevalence of MSK is predicted to inc reached 7 million in 2030. And for those people that are employed 59.7% report MSK as their main health condition. And in 2010 36% of people on employment and Support Allowance claimants, reported with MSK conditions reported it to be related to work. And as we all probably aware, MSK has huge impact on sickness absence. Or businesses, but also for the quality of by the effects people.
Poor MSK health can also have an impact on our inactivity levels. Equally being inactive can have a huge impact on our MSK health. So, I think it's worth mentioning, physical inactivity, but also the fact that there's increasing levels of physical inactivity, which is linked to prevalence of non-communicable diseases, such as cardiovascular disease, diabetes, and cancer and their associated risk factors.
Physical inactivity has major implications, what NCDs have major implications for the general health of people. And they account for nearly half of the overall global burden of disease. Physical activity is estimated as being the principal cause of approximately 21 to 25% of breast and colon cancer, 27% of diabetes, that's type two diabetes, and 30% of ischemic heart disease burden.
Every time I read out those figures, it always surprises me that it's a large proportion, down to being physically and inactive. So, if we can make small changes, not only is that going to help our general health, but also help improve our physical and mosquito hearts, I think it's important that people are aware of those percentages,
It's really quite, it's really quite surprisingly high. Especially considering the I suppose the remedy for it is quite simple. If you could put this, pop it into a pill, it makes a lot of money, I think. Yes, if we can just change our behaviours. And like you said, it's very much about making small changes, that will have a huge impact on us, not just now. But as we get older. And I think that's the thing that we need to be aware of, we're looking at our sustainability as beings over our lifespan. I can move on to the next slide.
So, in terms of the workplace risks around at musculoskeletal, half, is managed, whereby our DSE assessments, so DSE users, someone who uses DSE for more than an hour, and as part of our duty regulations, people should complete a workstation assessment and help to reduce risks, including taking regular breaks. And to vary the work roll a task, so do something different. People need to have an eye test and training information should be provided, which covers good posture, how to adjust chairs and furniture, arrange desk space, screens, and lighting to avoid reflections of glare and how to report problems. And as we go further through this talk, I'll talk about how we BT have gone beyond just those safety regulations and once again, added more of the health and well being slant to our DSC.
08:15
And along those regulations Lenio that they are 30 odd years old now. Technology and and working has moved on considerably. Obviously, BT have taken a stance to do more. Do you think that they just need a bit of an overhaul? You know, do we do we need to be looking at, you know, we've we've seen a slide that shows some some quite worrying evidence? Do we need to be regulating a little bit harder?
08:39
In one word? Yes, I believe so. Definitely. There were. Yeah, they're very old, the way we've worked has changed tremendously, especially in the last two years. And we do need to, I think, have a different approach to how we manage musculoskeletal health within our DSC assessments, and have much more of a holistic overview. Yes. And we don't work the way we used to with, you know, sitting at one desk with one workstation setup, we work in many ways. We work in different areas now. And that needs to be incorporated within our DSC assessments. That is you know, that is the way to manage risk in the workplace.
09:17
Yeah, and I also think, for me, looking at what we what we do outside of the working environment, you know, in 1992, we didn't have smartphones and, and tablets, which, you know, may be using them for work, but the second that we're off the clock, you know, we might be back on those again, so that the overall amount of time that that somebody can spend in front of a screen across, you know, a waking day is really significant.
09:42
Definitely. And, you know, we use digital technology, not only for our personal life, not only for work of our personal life as well. And even with live before, it used to be the usual nine to five, but like you said, we tend to the catalogue on after those times, at various times throughout the day, to DSC needs to take that into account, I think In the workplace itself can impact on MSK health both positively and actively being in the workplace, it's so good as you know, we're social beings we need to interact. It's good for our physical and mental wellbeing. But if we're glued in front of DSE that can have negative and negative impacts on us.
So, you know, there are systems in place within the workplace that we could utilise, to highlight to educate and support good MSK health and behaviours for just the very reasons we've just talked about. And the idea of reducing MSK problems in the workplace should go beyond and incorporate supporting colleagues in work, to have those healthy behaviours, and to help aid recovery where people have had injury or aches and pains.
DSE has been associated with versatile health, such as MSDs, mental stress and visual fatigue. But for the purpose of today, I'm going to focus more on MSDS for musculoskeletal disorders, muscular skeletal disorders, although the risk of substantial ill health is relatively low, a large proportion of workforce use DSE.
And so, I think the approach that we're taking is, you know, that's embedded in the question that we're taking in terms of MSDs, their common recurring in nature, and that that has a potential for chronicity. So, what often shows that people who have aches and pains around the ages of 30, it can become reoccurring, and around the age of 50, people tend to have chronic issues, reoccurring persistent issues.
And so, with the with our approach, what we really want to do is embed healthier behaviours much earlier on, so that by the time people eat reached the ages of 5140 5060, and onwards, that they are in a better physical and mental state. So, they have good wellbeing.
In the blink of the eye, I suppose as well, leaner, it's I'm just thinking about, you know, we should be doing more for even children at a young age, because they're, you know, they're getting introduced to, to all these devices as well. And it's, you know, perhaps as a curriculum thing that could be, you know, could be introduced as we've all got to be by the time you actually get to work, you've got a bit more of an understanding of, you know, the, the hazards of using these equipment, and you know, what techniques you can do to try and prevent that.
12:17
Yeah, most definitely. And I think when I think back to when I was younger, the mindset is, well, my dad, my mindset is that when I'm working or concentrating must sit down. And if that behaviour or that thought is challenged a bit earlier on, in terms of moving around thinking about how using DSE, I think that will become a natural habit as we get older.
Yep, can move on to the next slide, please. So, if you look a little bit more in terms of what the data shows HSE did a large-scale survey back in 2007, where they had over 1000 DSE users across different companies spread across UK, I think they were 130 companies. And they looked at the prevalence of symptoms over a 12-month period. And in terms of MSK related symptoms, 73% reported one or more MSK related symptoms in terms of the breakdown, what is 10% had neck pain. 39% reported shoulder pain and 37% reported back pain.
Over half of respondents reported head and or eye symptoms, more women than men. The majority of reporting symptoms took no time off work. So, these are people who experience aches and pains in the workplace. But it's not flat because I'm not taking time off sick. So, they're not being picked up by sickness, sickness, absence policies in the workplace. And I don't know about you, but generally when you speak to people that oh, yeah, expense, but have stiff back when I'm sitting down or a bit of shoulder pain. And it's just one of those things that gets pushed to the background.
For those that do take absences, the most frequent word for headaches than back pain and neck pain. And as you can imagine, there's a higher prevalence of MSDs in terms of increased computer time at work.
The study also looked at the occurrence of anxiety, depression, and distress. And what they found was that this is more common in younger respondents, more frequent amongst those who typically worked more than five hours over their contracted hours and hours each week.
Anxiety was more frequently reported in women than men. Distress was more common among those who worked more than one hour without a break. If you think back to last year, how many of you worked for more than an hour without a break with our virtual meetings? And anxiety and depression were more common for those who spent longer per week at their computer?
14:42
On that last point that makes it special? Why do you think that might be spending a long time at a computer?
14:51
I think it's down to personal differences, how we are and how we create boundaries. And I think when you're at a computer you feel you must be there. I think it's down to work demand workload. And being contactable all the time. I think that's fed into, into that, unless you don't get to switch off. I know when I was commuting back and forth regularly, the commute back home was used to decompress.
And I think over the last couple of years, we've, you know, we've, we don't have that opportunity to decompress unless you actively choose to switch off after work and go for a walk after work, or I mean, for me, I do a morning walk in the morning, just to get myself ready for work, so to speak. I think it's those habits that we didn't realise had a huge impact on maintaining our mental wellbeing and our focus for work, I think those changed, I think people are more aware now being it's two years.
15:48
I mean, for me, it's kind of that blurring that line between I'm actually work at home and working, and then I'm at home and I'm not working and yeah, they easily can overlap and with technology in your, in your in your pocket, you know, phones can be can be bleeping up, you know, 839 o'clock, and the temptation to just have a, have a look at it, and then, you know, almost immediately regret or I should have just should have just waited.
You know, it's I've heard some people having their own routines as a, once I've put my laptop down, I'm I do something or other that actually says I'm finished. I'm finished now moving to move into my time.
16:23
Yeah, that's interesting, we're gonna talk about this a bit later. One is also where your work is within your home environment, it can be even harder to create those boundaries. So, we'll touch on that a bit a bit later. If we move on to the next slide, please.
So, recommendations made from this survey were to examine current implementation and effectiveness of the DSC regulations, what you mentioned earlier on, Adam, and you know, the importance of having regular breaks throughout the day, looking at exposure relationship between mouse and MST symptoms.
So people that use a mouse for longer periods of time do report, the odds of MSK or MSDs, are much greater. And there's several people that do report on higher odds with mouse increase mouse use to review literature on muscle physiology, in relation to static postural and MSD instance, scope for reducing headaches and visual symptoms to explore stress and computer-based work within context of the Working Time Directive, and both more workplace service to facilitate future studies.
Pictures on the right are from a new hub and Snow Hill, which is based in Birmingham. And I want to draw your attention to the picture on the bottom right. Great Building I'm in love with our new building in in snowy hill. It's got great lights, acoustics are brilliant, clearly loads of biophilia, which is very good for our mental wellbeing.
If you look at the people sitting, they're all working off their laptop. So, looking down, if you look at their desks, they've all got monitors that they could easily plug into. But they've chosen not to. They're leaning forward, they're not using the backrest in these great standard chairs that we have available for everyone.
And a recent survey that's been done by I think it's called best computer work survey, looked at the changes in work environments over the pandemic. So, they did a survey in 2020. To do none, not one in 2020. What they did another one in 2021. And what they found was that those people that weren't using backrest or sitting upright reported a higher incidence of headaches.
So, if we could just get that message out to people, then that would help with some of the issues that have been highlighted in the HSE report. So, observing how people work, and then looking at the literature is a great way to build messages into the workplace.
Okay, if we move on to the next slide, please. This is more of a recent paper by EU OSHA. So that's the European agency of safety and health at work. And they did release a qualitative study. So, research over the over 2018 to 2021. And they split up into two parts. So, they have did a desk study where they looked at literature review on telework and analysis of regulation across the EU. And then a second part was where they did fieldwork, which included semi structured interviews across three countries between February and May in 2021.
So that included 48 employees spread across 18 companies. And what the literature review found was that there's extensive evidence on telework. So that's using digital technology with telework and psychosocial risks, but less research on MSDS and the integration with psychosocial risks but looking at MSDS and the reoccurrence nature of them. There are loads of research showing the multifactorial aspects to MSDS. And the fact that we do need to have much more of a biopsychosocial approach as opposed to a biomedical approach.
There's also emerging evidence that shows a psychological risk related to intense virtual communication Have and higher prevalence of self-reported MSDS linked to being sedentary per got poor ergonomic conditions working long hours and work-related stress. The outputs of this study have fed into a recent campaign called Healthy Workplaces lighten the load. And it's also going to feed into the next campaign which is going to come up with in 2023 and 2025 on digitalization and Occupational Safety and Health and I think that's going to be important to look out for on that campaign. If you Google healthy workplaces lighten the load, there's loads of resources available for companies or for people to use as infographics as loads of publications for you to get more information if you would like and it's great videos we've got one video here to show you now from our from nap view.
20:57
So they've got loads of short videos that you can use. But what that show is one thing providing people with an assessment and then the correct equipment. But then we also need to show people how to use the equipment right, correctly put themselves in and the benefits of adjusting their equipment.
22:42
So, what I want to talk a little bit about now is physical activity and sedentary behaviour. So, who published some guidelines in 2020, they're much the same as 2010 in terms of how much aerobic physical activity we should be taking, which is 150 to 200 minutes, and that we should be doing to strengthening sessions a week.
What they've introduced for the first time, which is great is that we should reduce accidental behaviour, and that we should all try and move more during the day to reduce the risk of type two diabetes, cardiovascular diseases, some types of cancers and premature mortality are taught we've mentioned earlier. And though this is the first time this has been included in guidelines, the research routed into behaviour has been there for ages in the 1950s Transport for London did a study looking at bus conductors and bus drivers.
And what they found was that the bus drivers were twice as likely to have a heart attack compared to the bus conductors. And the only difference between the two groups. Where would that be conductors are moving around throughout the day, where's the bus drivers unfortunately spent most of the day what 90% of the day sitting?
So, it's great that this has been included in the guidelines. And obviously there's positively positive health outcomes by being active. All right if you move on to the next slide. We know what the guidelines are what they recommend. But if we look at the numbers, what do they show?
Unfortunately, the global estimates show that a quarter of adults and more than three quarters of adolescents do not meet the recommendations for aerobic exercise. And that 80% of adults do not meet recommendations for strengthening sessions and nowhere for improvement in global levels of participation over the last two decades. And there continues to be substantial gender differences. And unfortunately, the data also shows continuous inequalities. And I think that's just become even more heightened during the last two years during the pandemic.
So, we know what we should be doing. We've got all this evidence that gives the recommendations. And yet there's a mismatch in terms of what we're doing. And that's something that we're trying to target within our DSE approach at BT.
So, move on to the next on that Lina, then obviously, there's a line between what an employer can ask of them with ease, you know, we can give them guidance, we can give them recommendations, we can tell them why they should do this. But in terms of the actually getting them to do that, you know, that's a difficult one to get, you know, we can influence but actually getting a positive outcome is, is quite a challenge.
25:20
What we've done in earthing this is from conversations I've had in clinic really is, if I'm trying to help a patient get better, or I want them to understand the advice I've given them, it's backed up by evidence.
And so what we've done throughout our approach is put evidence into the, into the information so that people understand why we're asking them to move. So, in the DSU self-assessment, you know, we've said that 65 to 70% of UK workers spend 65 70% of their time sitting.
So that's quite stark for people to know that everyone's kind of fed in lightly. We don't want people to be overloaded with information, but so that they can understand the reason for the advice that's given. And the evidence that supports that advice. And hopefully, we can make a lot enable and support our colleagues to make that shift that positive health shift. It is hard.
26:17
Oh, absolutely. And I've always been of the view that you can't go from not doing it to meeting the requirements immediately. It's sort of small, small shifts in well, okay, if you can, you know, once a week, think about going out for a walk and then build on that. Yeah, rather than thinking, Okay, well, I'm not doing this whole, you know, I need to really, completely change everything in one go.
26:40
Yeah. And I think what you've said is, it's spot on in that, those small changes do make a difference. So not to discount them. Like I say, you can't go from one to the other. Is it you graded up, and to not discount that that process in between? If you look at physical wellbeing, I'll put some information in terms of inactivity during the last two years.
So Leasman reported that 72% of respondents on their survey, were more physically active and working from home. And that is the case for some people. But another study by Bevin and 2020 report that 6% Were not exercising as much during lockdown. Tilson reported a significant reduction in fiscal activity as soon as the pandemic was announced. So, within the first 10 days, there was a 5.5% reduction in main steps, and that's this had increased to 27.3% reduction at 30 days, and throughout the period has been a significant increase in MSK, complaints, neck being at 58%, shorter 56 and back 55%. So similar to MSK symptoms reported with the HSE report but increasing and it's down to the different work environments, and also the fact that people are a lot more inactive.
Although I know people have winced when I spoke to people, they've because they're not commuting so much or they've got more time at home, they've been able to fit in exercise more so than they would have if they're commuting back and forth, or with social plans. The impact of physical inactivity on our physiology is great. So Excessive sitting slows down our metabolism, which affects our ability to regulate blood sugar and blood pressure to be able to metabolise fat, and it can cause weaker muscles and bones.
So denturism causes rapid loss of muscle mass, which is detectable after two days. So, you can expect to have loss of muscle mass after 10 days of 6% and off 10% muscle mass after 30 days. So that's big changes early on. nicely nicey also reported the impact the physiological impact of the denturism during the beginning of COVID. And reported that the impact of tourism associated with increased cardio metabolic and body composition risk and that a few days of step reduction can induce insulin resistance and cause muscle loss in young healthy people. And once again, that's evident within days. I think it's important to know those facts to the changes on our physiology are quick and they can have a knock on effect months and years down the line.
And I suppose it's no real surprise that you know, in the early pandemic that this this was the case we will have to react to something that was completely unexpected. A lot of people have never worked from home before so either wouldn't have had a setup or you know, couple around to get something together but two years on where we've you know, we've had more time to adjust we've been able to get some more information out there is it is it looking is it do we think is a better picture now than it was?
Or are we just kind of tip of the iceberg and you know, as we move into agile hybrid working being something permanent that that we now have to really all Do you think about how this is going to going to work and really commit to putting some positive changes in?
30:08
I think it's very different. So, I think the people that had long term health conditions pre pandemic, I think they're not doing that great. I think things have got worse for them. They've become a lot more physically and mentally deconditioned. I think people that might have had time constraints either down to family responsibilities, or long commutes or any other factors, they've certainly got time to be able to implement, exercise and so forth.
And once you've had an opportunity to build on those healthy habits over a longer period, you're more likely to sustain them. So, I think those people will be in a better position. And I think we've had a long period of time where people have realized what works for them, what doesn't, they've changed their work or homework set up. It gives companies time to put in processes to support employees in different work environments. But I do think there are a group of people that, unfortunately, are more inactive. And I think we need to, and hopefully, well, we need to do more to help them become more active. Yeah. Move on to the next slide.
So, when people experience aches and pains, first thing people tend to do is Google. But unfortunately, there's a lot of misinformation out there. A recent study by charter site of physiotherapy highlighted the scale of this. And so, what they did is they got a team of specialists, musculoskeletal physios. And they studied the 100 most highly viewed videos on YouTube when searching for advice and treatment or back pain. And what they found was that almost half contained a myth 1610 contain false or misleading information.
Nearly a third had an unrealistic video demo for intent contained unhelpful language that was fair broking or, quote, contradictory. And almost half did not state their qualifications for providing advice. And that's quite worrying, while very worrying, and so we feel it's really important that people do access the right information for them, to help them get better and help them with their recovery. And then move on
32:18
to the next slide. The information is out there, it's just not as not as popular.
32:24
Yeah, and I think it's, its marketing, what looks good, it's people are gonna pay more attention to. And sometimes it's easy just to see Google and find something that works for you. But if you're following something, it's not the right advice for you. It's not given by qualified people; it can have a knock on effect. And when I've spoken to some colleagues, they have found that people are reporting at physio clinics, with more symptoms, more aches and pains, because they've been following advice that hasn't been right for them. Leishman has done loads of webinars throughout this period, and they've been collecting loads of data on the home working experience.
So, there's many look at employee experience within the office. And then once we start working from home, they change their survey slightly to report on the home working experience. And what this shows is the best setup people have had at home. So, 37% had a dedicated work room or office, 33% had a dedicated work area, so not in a separate room. And 27% had a nonspecific home location. So e.g., working from a dining table, the experience in terms of the homework would vary considerably, depending on someone's work environment.
So those dedicated with a dedicated work remote office had a higher experience score. And as you can imagine, those that had nonspecific work locations had much lower experience score. This is also the exact clearly on their graph on the right-hand side, but it goes to shows the age difference.
So generally, those people that age 55 to 64, a high percentage of them had a dedicated work officer him so their experience from working from home was much greater than someone who was younger. And yeah, so those people that age were 25 or less, more of them had a nonspecific home location. So, as you can imagine, their experience of working from home was quite different. What they looked up from time to data also was the biggest variation in the experience scores and these four statements here are had those variations.
So, my home environment enables me to work productivity productively. 20.6% Physical settings I use when working from home are suitable for the work I do. When I work from home, I'm able to maintain a healthy work life balance. When I work from home, I feel connected to my colleagues. We use those statements within our DSU self-assessment so that we could. To support our colleagues in the, in the workplace, whether that's in the home or in the office.
So, if you want to have a look at the information, Google listen, and you'll come across their webpage, and there's loads and loads of publications for you to, to read, but also you can sign up to join their webinars as well. If we move on to the next slide. So those are the little jigsaw pieces that led to the development of our DSE self-assessment.
So, if we move on to next slide, I'll talk you through what our DSE self-assessment is. So, as you Adam mentioned before, will be its legal requirement that we have to comply with. But our DSE assessment goes beyond the regulations. And like I mentioned, has the health and wellbeing overly based on all the information we've just gone through.
So, looking at MSK, looking at work life balance, looking at stress, and physical inactivity looking at ergonomic setup in different environments. And there's guidance throughout giving them facts and information to help encourage positive health behaviour change. And we also have videos on workstations set up and chair set up that practice what you two did was Thank you. The DSE self-assessment is very much integrated from a user perspective.
So, people need to order standard equipment they can do, but if they also need to have further support, there's a pathway enabling that it links to our wellbeing within looks away links to our resources within our wellbeing portal. So, there's loads of information available for our colleagues, and it has made it easy for them to access that.
By the time we finished creating this DSE self-assessment, the paper by E washer, which I mentioned earlier, was published. So, it's great that really aligns with that. We are going to evaluate our DSE self-assessment to see whether it has had an impact. And we want to know if it has If it hasn't, why, what are the barriers for people completing the assessment? Do people feel their health and wellbeing has improved. And we plan to do that for our colleagues based in our Snow Hill building later this year.
37:13
So, what I'm going to just touch on now is the research project that we're looking at what we're doing, and it's about integrating M health into our DSE risk management pathway. So, it's another way another approach to giving people the right information early on. So, if you move on to the next slide. So, it's taking in innovative approach.
So as mentioned earlier, risk around MSK health in the workplace is managed by data assessment. But there is strong evidence that recommends collaborative approach, adopting early intervention and education for positive MSK health in the workplace. And we thought we could do this by utilising MF M health. And we've got the Disability Research Opportunity MSK Toolkit by business in the community.
So that all have recommended that managing MSK health in the workplace should go beyond just addressing the risks of injury, and towards promoting health and wellbeing in both the worker and the workplace. And that's the lens that we're looking through with this project itself. To move on to the next slide.
So, we talk about m health. It's the use of mobile devices for obtaining information to diagnose and treat health conditions. There's a strong consumer appetite for digital health products. 50 million people worldwide use app based self-triage. With interactive symptom checkers being used. Most people want to know what their symptoms are related to them want to know or they want a diagnosis. And we feel that M health applications are well suited to workplace intervention. But based on what was mentioned earlier, in terms of the level of misinformation out there, giving people the right information is critical that people can access the right advice and evidence-based intervention. And the bits on the right-hand side are the various facets I've led to working with Chuck active me.
So, a survey by arthritis research. Find that many people suffer with ongoing aches and pains. But they put up and shut up when it comes to workplace health. And then we saw that with the HSE report where 82% reported MSK No 73% I think so reported MSK symptoms that they didn't. That wasn't picked up because it didn't go off sick. Impact of MSK problems on work is predicted to increase and also we're all going to be working a lot longer than we ever anticipated. Lucky Yes. Lucky us. 2.5 billion people worldwide own a mobile phone.
So, it's great. We can use m health to facilitate direct access to clinical diagnosis and treatment advice and health itself. It's an immediate, convenient, scalable solution that's cost effective, and we can give self-management advice and exercise intervention. And we know that pain beliefs are hugely influenced by lack of understanding handing off the nature of pain. And what that does is it encourages passive coping strategies, which is where the risk of reoccurring and quantity increases significantly. And it aligns to NICE guidelines for self-management and early intervention advice when it comes to neck and back pain. And as we saw earlier, those are the two most reported. What do you region or symptom areas relating to DSE.
So, we're working with tracked active MI, and they have self-assessment and access-based tools to prevent a match MSK conditions, they cover 26 conditions and their assessment algorithms have been validated. They have chat bots that diagnose etiology of aches and pains, which then deliver personalised advice and exercise programme. And like I said earlier, people want to go on these apps because they want a diagnosis or they want to go to a clinic, because they want to be told what was wrong, and what they can do. Each access programme is evidence based for each condition. When I look through the exercises, I really like the exercises. And they're very similar to what I would give in in clinic with patients. And what's also great about this app is that the physical activity recommendations are aligned to the WHO guidelines, which we mentioned earlier. There are also videos that people can use for preventative measures.
So, it's so yeah, it's full of useful information. We want to the next slide. Thank you as it's a research study, it's something we work it's called working with marsh and it's a pilot study. And it's called a surface evaluation because we're looking at an MF M health that's already out there in the market. We've set an objective, and a research question and aims.
So, the aim is to gain insight to user experience and usability, use a confidence of using the application and to assess pain, disability and functional outcomes. And the idea is, is that when people move into the new building in London headquarters, which is based in all gate, one Brom, they will be asked to complete a DSC self-assessment as part of regulations being that they're moving into new work environments. And if they report aches and pains that were provided with a link or track active me if they would like to join into the study, and we hope to analyse it in two parts.
So we'll do a quantitative analysis, buy a survey at four weeks and three months. And then also at three months do thematic analysis via focus groups. And we'll also collect objective measures on pain, disability and function.
For move on to the next slide, what I put here is just for information, really, the surveys that we're going to be using so validator surveys, so system usability scale, so that we can see or understand people's experience from using track active means there's loads of em health applications out there, but how usable are they? Can people navigate around them easily? And then we also want to monitor MSK health from using the app. Has it helped people understand their condition? Have they done the exercises have they use the moved around more? Has it made a difference to their, their musculoskeletal condition and their physical wellbeing? And that's an overview of the DSU projects that we're working on at BT.
43:34
Thanks very much, for going through that we do have a couple of questions. We've got some time to answer. answer those questions if that's okay. So, the first one that's come through, what's your view on documenting DSE workstation assessments, as opposed to dynamic assessments as they need to be quick and effective, not onerous for either party, this becomes more challenging when it comes to remote working and working from home, which is not feasible to assess in person.
44:05
So, with our DSE self-assessment, it's online. So, we, it's recorded, and we've it's built to encompass those people that work in the offices in their home environment, but also we have a section for smart working. And so as if someone is a smart worker, it will go through a workstation setup for the office and put their home and give them guidance according to that. But anything that's completed there is recorded online for us. So, and then that enables, if there are any risks to be highlighted and for those to be then discussed with line managers, so that employees can be supported.
44:51
Yeah, and just to go on that I think doing a self-assessment is really important starting position to to give you some information but then then it neonates To be some of those actions are going to need to be taken by the, by the user, but also, they really will need to management support, because it may be that someone, you know, might need a piece of particular piece of equipment. So, getting that getting that through an authorised, but sometimes it's also flagging it up that actually, you know, this person might need a more enhanced assessment because they've got, you know, some more complex conditions.
So I think, you know, from a dynamic point of view, you know, if things do change, you know, and like any good risk assessment, if there's, if change occurs to the, to the environment, or the individual, it's really important that we, that we do take stock and review because, you know, the need may have changed, but, you know, doing it, doing it once a year, you know, it's not really enough, we need to be continually reinforcing, you know, good practice. And it's even as your picture leaner earlier of the people hunched over, you know, whenever I write, when I'm in an office, or a client building, you're gonna have to walk down and look down, and I'll have people sitting in like, all three out of those six people aren't, aren't sitting correctly. And hopefully, we don't have to get to the point where we walk past people and say, posture, come on, get your posture where it needs to where it needs to be, but people do need to be, you know, do need to be reminded that, you know, you have to be actively doing it every day.
46:20
Yep, definitely. Yeah, absolutely. And, that our next question sort of leads into what you were just saying there, Adam, what parts can managers and supervisors take in preventing prolonged poor postures, and sort of terrorism, I can't say that word, especially if an employee is working agile.
So yeah, kind of similar, really, what we've done here, which has been quite good, so when people moved into some in London headquarters today, and when people first moved in, they were advised to do the DSE self-assessment for those that did come into the office. But would there's a brand bulletin that goes around, and the comms team are great, and the product team in that they asked for a healthy habits section. And so, it was just that put together so to encourage the different ways of working.
So, I think there was sit properly move plenty stand sensibly. And it was just some sentences in terms of if you sitting down rate, just to see height so that your wrist levels are lower than your elbow, if you're standing as it stands desk or high table, don't stand for more than four hours do move around, because it does have an impact on your circulatory and you and your legs.
I move plenty because you know, we're designed to move the next posture is best posture. And those little snippets that we had in the bulletin people picked up on that. And I think line managers and supervisors are aware of those kinds of things and encourage that kind of comms. Those are the natural habits, so you can change for your workers at working in different environments. Yeah, so and it's giving people snippets of information, I think.
47:56
Yeah, agreed. I think from manager's point of view, it's for them, they can be informed, you know, that they have influence on the people that they're responsible for. So, they're informed of the risks that they can make and do that. Now, obviously, when you're in an office environment or a meeting environment, it's easier to be more influential. I mean, you know, for example, I find when I'm in a, in a meeting, I'm sat down, once I get to about 45 minutes, I sort of want to start getting up and walking around the room.
And sometimes people looking at what you're doing well, I'm feeling uncomfortable. So, I'm just getting up and moving around. And if, you know, if everybody did that, and it was, you know, it was the norm and that's a good thing. Obviously, when we're moving to people working from home and the way that we've adapted to using, you know, teams and zoom, etc.
No, it does. It does allow for bad habits to get, you know, to get in, especially when we're at times going back-to-back and you know, it can be very simple things like rather than booking a meeting for an hour bucket for 50 minutes, and you're at least giving people an opportunity for 10 minutes to get up, move about grab a drink, etc. So, things don't have to be particularly challenging. I think we just all got to have a real group understanding of how you know how we're going to do this, because, you know, agile working is here to stay. And, you know, I don't think for me who understands about musculoskeletal disorders, it's not something that I want, and I don't want anybody else to have to have to deal with that. But because, you know, it takes you know, any chronic condition takes years to occur.
You know, it's a gradual change that you don't necessarily notice until it's, you know, it might be a bit might be a bit too late. So, if we can encourage people if they are starting to feel neck, back shoulder pains to actually talk about it, you know, we might be able to do something proactively.
49:40
Definitely, I think conversations are very important. It's something that should be talked about. And it's interesting. You talked about the 50-minute meeting, because that's been built into our DSE self-assessment is recommending people set their outlook diaries so that when they send a meeting invite is 15 minutes or 25 minutes because people do need to move around regularly. So those are small changes, as a company, if you can encourage, and as line managers or European in the meeting like that you've been moving around, it shouldn't be the you know, the, you know, the bit that everyone watches, it should be the norm. Definitely.
50:15
It's about the little reminders, isn't it? Like with anything, just sort of forget, you can kind of remember for a couple of days, and then and then you just forget. Okay, thanks, both. Now, another couple of questions that have come in, do you prescribe DSE equipment for use in different work areas, including Office Home agile, and how to staff access the equipment? Is this included in your assessments?
50:39
Yeah, so when people are completing the duty self-assessment, if people require standard equipment that's easy for people to audit themselves, all the links are in there. If someone requires further support, then they are taken on a pathway to organise a further ergonomic assessment, where they go through the DSP subsystem, but then they also then if they require further equipment, terms of chairs, keyboard mouse, that that's discussed and reviewed, and then a report sent to the managers.
But in terms of anything, that consistent work well, one person had one workstation. But if someone's working in two, three different locations, or they're working from home, do you go out and get equipment for all locations, it's pretty much different. And I think in those kinds of situations, you've got to consider where how often people are working in what locations and what the requirements are. So for example, if you're in your office, one day a week, in one office location, then you work in another office location, maybe three days a week, you might want to have equipment in one that you're, you know, based primarily. And in terms of one where you're one day a week, maybe making slight adjustments that enable you to work safely and healthily, because that's important.
But those are the kinds of nuances that I think line managers are going to be having discussions are going to be having with their, their employees to enable that. And to shift for companies as well to start thinking about this, like, how do they put this in place? And how do they have processes that support the employee, but also the line manager to know that they are supporting their employees in different work environments? And if we are going to continue to work from home? You know, how much of come into it provide people at home on what is it that they need? And
52:22
I think that that point I've had that debate with several different people. I mean, when you're dealing with organisations with much fewer resources than BT has at their disposal, you know, where does the line draw between what an employer must, must provide and you know, even if we are working from home, obviously employers are still responsible for their employees, you know, and should be ensuring that the setup there is suitable. So, should it be that an employee must demonstrate that they've got a suitable setup before they can actually work at work at home? And if that is the case, you know, should all employers contribute because, you know, if you had to, if you had to switch that on for your entire workforce, there's a lot of costs that you'd have to absorb.
53:07
Yeah. Okay, moving on to a slightly different subject now about track active me. If track active knee diagnosis and gives advice is it considered a medical device in the UK?
53:21
Yeah, it's got a CE mark, stamp. I've learnt a lot about m health during this research project. So it's gone through all the regulations and the validations. Yeah, it is, and it has an extensive Screening Questionnaire. So, if it's not suitable for an individual, it will highlight the reasons why and then recommend them where they should go, whether they should go to a walk in centre or whether they should go to a GP, practice and the reasons given so that the person can discuss that with the health practitioner, else also, throughout the journey. If someone requires physiotherapy, they will be signposted to physio services that we provide with NBT.
54:06
Thanks, Lina. Okay, I think we've got time for another question. Do we have to trust that homework is complete self-assessment honestly? Or would you advise line managers etc., to see evidence of their workstation to check that they have decent desk space and chair etc. And when sometimes their workstation is in the bedroom, and they may not want to show their personal space?
54:28
It's so tricky. It's so tricky. I you know, you do wonder, are people going to complete a self-assessment because they want to continue to work from home? I think you've got to, you know, it's about trust line managers need to trust their employees and employees need to trust their line managers.
It's down to trust and there's ways of having discussions to ensure that an employee is working safely and healthily whether it's at home in the or in the office. And you know, someone who's younger, you might not have space for a workstation or an office. You can't penalise them, if they're working from their, from their room, if they're, you know, or a shared dining area. But, you know, what can they do to help support them have a good setup? I think that's a project that should be taken.
55:23
I mean, it's one that's again, it's a very difficult topic. But if you look at it from the other point of view, if an employer is, you know, is liable for the actions of their employee whilst they're working from home, if they haven't got a suitable enough set up, and that employee, you know, suffer some long term harm, you know, from a civil point of view, you know, is that employer not going to be, if they're going to be liable for that, then kind of asking for evidence of what your setup looks like, might be entirely reasonable.
And, you know, is unfortunate that, you know, when you look at the split of people, some people just simply won't have a suitable enough space. But if they, if they haven't got a certain amount of space, is it down to the employee to say, well, I'm, I'm sorry, but you can't work from, you can't work from home, because we can't guarantee that you're going to suffer any your health.
56:09
And that's what, that's the crux of it, really, we don't want employees to suffer any ill health. And that's the nuts. The idea of having a DSE self-assessment is to highlight that highlight any risks, so you can have those conversations?
56:27
And so I've, you know, in answering the question, I've seen clients doing it both ways, some as part of the DSE self-assessment now, where they indicate that they are doing Agile hybrid, they must upload a photo of their, of their setup, and then equally, if their actions coming out of that assessment, and those actions have been completed, then they need to upload a second photo of that showing that those, those mitigating controls have been, have been put into place.
So, you've got an audit trail to, to confirm that, and others, you know, as Linus suggested going more trust, trust basis, it will give you will ask you to do to do the assessment, we'll give you some training and, and some information and use it yourself. So, lots of different approaches that can be taken.
57:16
One more. How important is workplace environment like lighting and heating and the prevention of harm and symptoms like eye discomfort, and headaches?
57:26
Very important. So, it's another research study that we're working on, actually, in snowhill, looking at the physical environment, so looking at the impact on lighting, acoustics, temperature, on, on, its participant in its occupants, health and wellbeing. But if you've got glare from your screen, that's going to have an impact on your eyes, we're using technology not only at work, but we're also using it for personal reasons. It's people it's having a huge impact. And visual stress is something that's been picked up in the HSE reported, so it's a big factor. And so people need to be aware of that. Definitely.
58:10
Just one last question. Do brakes include changes in activity to or should it be a break away from the workstation or device.
58:19
And I'm a firm believer in getting up and moving after an hour, but that's probably because that's just me. But you know, you don't have to go far, I sometimes just get up, stretch my legs, and sit back down again. But essentially, what they recommend is every time is if you can move away, or in an hour, if you have 10 minutes where within that 10 minutes, you've got a combination of standing and walking, the it's the change in position that has a change in posture, as well as movement, which has the benefits to musculoskeletal health, annual, physical and mental wellbeing.
59:00
And the one for me that I try and do the most with, if I'm having a team's call or a phone call where I don't have to be on video, I'll put my wireless headset up. And I've tested how far the range of that will go within my house. And I'll just pace around price around the upstairs of my house, going in various places until I have to come back and make some notes. So, there are lots of sort of small tips and tricks that can make quite a big, big impact.
59:26
Brilliant. Thanks so much, both. And thank you enough for joining us today. I'm afraid that we really are now out of time. And there were a few questions that we didn't get to. So, we will put those up on our resources page and make sure that we answer any of those that we didn't come to. We're going to post all the questions and answers on our resources page as well.
So, you can see those again, there'll be a link to those and a recording of the webinar. That will go out to everybody that signed up today. And we have our next webinar on February 23. And that's going to be talking about modern slavery, very interesting subjects at the moment. And if you have any more questions to submit for this webinar, or for in advance of the modern slavery webinar, then please email us on [email protected]. Thanks again.
1:00:17
Thank you. Thank you.
Speakers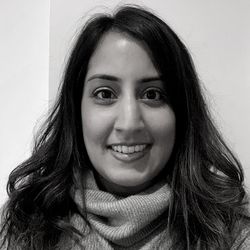 Lina Chauhan | Group Ergonomic, Musculoskeletal
and Wellbeing Specialist | BT
Clinically, my background is an Advanced Occupational Health & Musculoskeletal Health Physiotherapist and I have worked in industry for 15 years. I am very passionate in helping people stay healthy at work.
For BT Group plc I work as an Ergonomic, Musculoskeletal and Wellbeing Specialist within a leadership and collaborative role driving forward optimum health and wellbeing in the workplace. I am working on several projects, some of which are research-based, to influence preventative, supportive and enabling workstreams of musculoskeletal health strategy.
Adam Clarke | Managing Director (Consulting) | Praxis42
Adam is Managing Director of Consulting at Praxis42, having started his career as an apprentice in Occupational health & safety nearly 20 years ago. Adam has previously worked as a Health and Safety Consultant, Trainer and Director.
Adam is passionate about improving health & wellbeing, empowering ownership of risk and utilising technology to make compliance simple. Adam works with his clients to understand the organisations challenges and then supports them in understanding their compliance needs, tailoring bespoke solutions to fit.
Tracy Seward | Marketing Manager | Praxis42
I joined the Praxis42 team in 2018 as Marketing Manager. My background is in advertising, and over the years I've been lucky enough to work on campaigns for Madame Tussauds, Maclaren, Barclays, PepsiCo, McDonalds, Arsenal and many more.
I have a Lockdown kitten called Bob Marley AKA Chairman Meow, who seems to now rule the house!
My main pastimes outside of work are drinking coffee and Yoga – but not at the same time.