Get access to our webinar today.
Our ergonomics and the agile workplace wellbeing agenda webinar, in partnership with BT, explores considerations to protect the health of employees.
Ergonomics and design form an important part in providing workplaces and systems of work that accommodate the individual by ensuring that they are able to work efficiently, comfortably and free from harm.
The dynamic changes that have occurred due to the pandemic means that employers and practitioners need to consider how the principles of ergonomics can still be achieved in whatever workplace.
This webinar, in partnership with BT, explores what is able to be achieved and needs to be considered to protect the short and long term health of employees.
This webinar focuses on:
The principles of ergonomics and how they apply to a varied workplace and population.
Recognising what agile working means and what needs to be considered.
How ergonomics supports a wellbeing programme.
Pragmatic solutions from real examples.
Speakers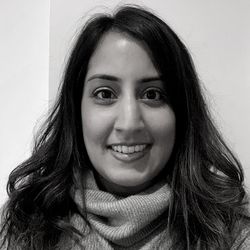 Lina Chauhan | Group Ergonomic, Musculoskeletal
and Wellbeing Specialist | BT
Clinically, my background is an Advanced Occupational Health & Musculoskeletal Health Physiotherapist and I have worked in industry for 15 years. I am very passionate in helping people stay healthy at work.
For BT Group plc I work as an Ergonomic, Musculoskeletal and Wellbeing Specialist within a leadership and collaborative role driving forward optimum health and wellbeing in the workplace. I am working on several projects, some of which are research-based, to influence preventative, supportive and enabling workstreams of musculoskeletal health strategy.
Adam Clarke | Managing Director (Consulting) | Praxis42
Adam is Managing Director of Consulting at Praxis42, having started his career as an apprentice in Occupational health & safety nearly 20 years ago. Adam has previously worked as a Health and Safety Consultant, Trainer and Director.
Adam is passionate about improving health & wellbeing, empowering ownership of risk and utilising technology to make compliance simple. Adam works with his clients to understand the organisations challenges and then supports them in understanding their compliance needs, tailoring bespoke solutions to fit.
Tracy Seward | Marketing Manager | Praxis42
I joined the Praxis42 team in 2018 as Marketing Manager. My background is in advertising, and over the years I've been lucky enough to work on campaigns for Madame Tussauds, Maclaren, Barclays, PepsiCo, McDonalds, Arsenal and many more.
I have a Lockdown kitten called Bob Marley AKA Chairman Meow, who seems to now rule the house!
My main pastimes outside of work are drinking coffee and Yoga – but not at the same time.