Fire Safety Training
Developed by qualified and experienced fire, health and safety professionals, our in-depth fire safety training helps employees understand the danger of fire in the workplace.
It covers common causes of fire, how to raise the alarm and understands what to do in the event of a fire, including safe and effective evacuation.
---
Course summary
It is a legal requirement for an organisation to provide fire safety awareness training for their employees so they know how to spot fire risks and what to do in the event of a fire.
Under the Regulatory Reform (Fire Safety) Order 2005 (RRFSO) and The Fire Safety (Scotland) Regulations 2006, employers must provide fire safety training for all employees by law. Providing fire safety training also helps ensure compliance with The Health and Safety at Work Act 1974.
Our online fire safety training provides employees with the knowledge to identify potential fire hazards and risks, what to do in the event of a fire, along with how to raise the alarm and ensure safe evacuation. The course is easy-to-follow and suitable for all levels within an organisation.
What are the benefits?
Essential fire safety training for all employees, managers and supervisors.
Learn about the causes of fire, key responsibilities, actions to take and policies.
Online training course conducted at your own pace – no prior experience required.
Fire Protection Association Member.
The Institute of Fire Safety Managers Affiliate Member.
Who should take this course?
Our IOSH Approved Fire Safety course is suitable for anyone who occupies or works in your organisation's buildings, premises or facilities. It is aimed at all levels of employees, including directors, supervisors and managers, team leaders, and administrative and clerical employees. It is ideal for new employees to increase fire safety awareness as part of their induction process.
Employees typically undergo regular fire safety training at least annually to ensure their knowledge and awareness are up-to-date.
Anyone who has been nominated as a fire warden or fire marshal can expand their knowledge and understand their responsibilities with our expertly designed Fire Marshal training course.
You do not need previous or specialist knowledge to undertake fire safety training.
Course duration
The course duration is 25-30 minutes and the course can be completed online at your own pace.
Course accreditations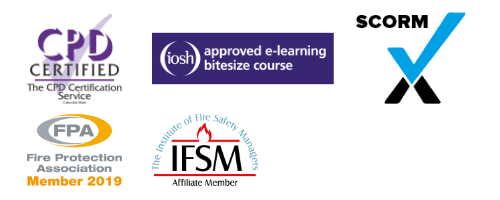 Our accreditations mean you can be confident that we deliver high-quality, effective eLearning that forms part of a professional development programme.
We pride ourselves on our extensive certification and accreditation. We're ISO 9001 quality management certified, CPD Certified and an IOSH Approved training provider.
We're a Fire Protection Association Member and an Affiliate Member of the Institute of Fire Safety Managers (IFSM).
This course is SCORM compliant which means it can be integrated as part of your existing LMS or used as part of our SHINE learning management system.
Learn more about our health and safety accreditations.
Start your learning adventure
Created by experts. IOSH Approved. CPD Certified. Our fire, health and safety courses support your compliance training needs. We offer flexible eLearning options. Buy individual courses now and start learning. Or simply call us to discuss group discounts and enterprise pricing options.
Buy now – individual course
Fully interactive – online learning
Certified training – created by experts
Perfect for smaller businesses and sole traders starting out
Call us – volume discount
Save money – volume discounts
Control – central dashboard
Reporting – monitor training progress
Ideal for mid-sized SMEs needing to deploy training at scale
Call us – Enterprise pricing
Bespoke – tailored to your needs
Comprehensive – over 50 courses
Support – 1-2-1 account management
Perfect for larger businesses needing a wide variety of training
Aims of the course
Our IOSH Approved Fire Safety training course is designed to help employees understand the causes and dangers of fire, risks of fire in the workplace, and what to do in the event of a fire.
It helps employees understand what to do if they discover a fire, different uses of fire extinguishers, how to raise the alarm, what to do in an evacuation and appreciate the importance of drills and protected means of escape.
By completing our fire safety training course, you will:
Understand the main causes of fire in premises.
Understand the precautions and controls in place to prevent, protect and detect.
Know how fires start and types of fire hazard.
How to raise the alarm and means of escape.
Appreciate different types of extinguishers and their safe use.
Learn how to evacuate in the event of a fire safely.
Understand the importance of fire doors.
Be aware of the procedures for evacuating people with disabilities.
Course content
Our Fire Safety training is delivered in four sections:
1. Introduction – Understand the dangers of fires in the workplace, fire safety policies and key responsibilities.
2. The nature of fire – Learn how fires start, combustion and sources of ignition such as combustible waste, common causes of fires and how to identify fire hazards and how to deal with them in the workplace.
3. What to do in the event of a fire – Understand what to do in the event of a fire or emergency, how to raise the alarm effectively and what to do if you hear a fire alarm. Learn whether it is safe to tackle a fire to aid escape and how to do so safely with the correct fire-fighting equipment.
4. Evacuation – Learn about effective procedures in the event of a fire so employees and occupants of the premises can safely evacuate, understand the risk and dangers of delaying evacuation and the importance of fire drills for testing fire evacuation plans. Build awareness of protected routes, the importance of fire safety doors and procedures relating to people with disabilities.
Our IOSH Approved Fire Safety Training course includes summaries, interactive tools and exercises, and comprehensive tests to enhance your learning.
Fire Safety Certificate: you will be awarded a certificate on the successful completion of the course.
Download our Fire Safety course brochure
Course screenshots
Fully interactive. Clear and simple. Created by experts.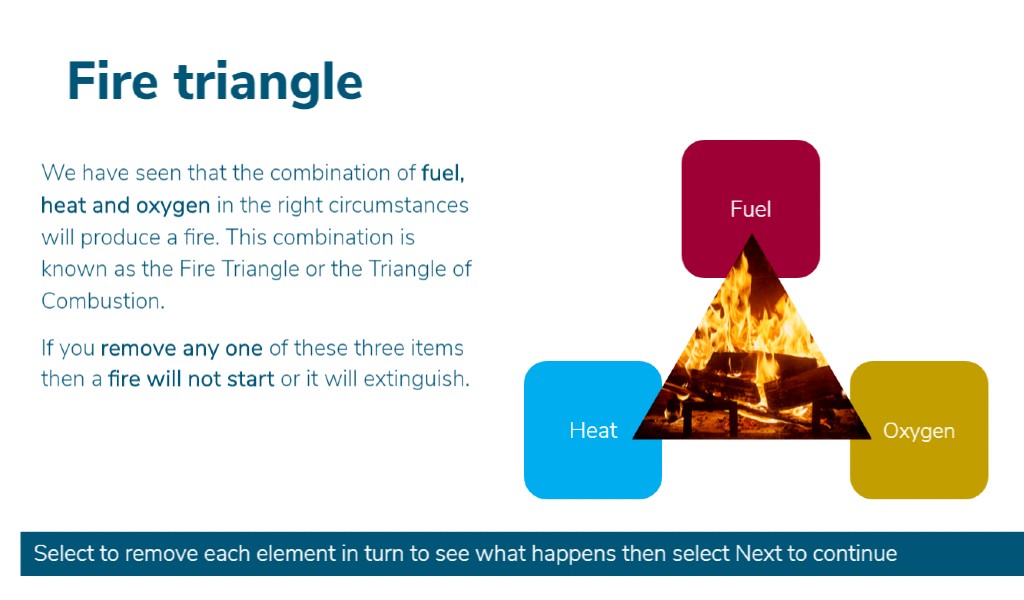 How is it delivered?
Our Fire Safety Training course is delivered via a web browser or computer network on a desktop PC, laptop and mobile device. The training course can be completed at the employees' own pace by recording their progress so they can return to the training at a later stage.
By delivering training this way, the typical costs of training are reduced while still achieving the desired awareness and compliance with the organisation's obligations. At the end of the training, the employee will complete an assessment to ensure that they have familiarised themselves with the critical aspects of the training.
This course is SCORM compliant for use on an external Learning Management System (LMS) if required.
SHINE – compliance record keeping
The Praxis42 Digital Platform SHINE is our advanced Learning Management System and helps organisations deliver effective online learning for their employees.
A cost-effective tool for compliance record-keeping SHINE allows you to view and manage employee training records easily. Individual training certificates can be printed as proof of compliance for audits or visits from enforcing authorities.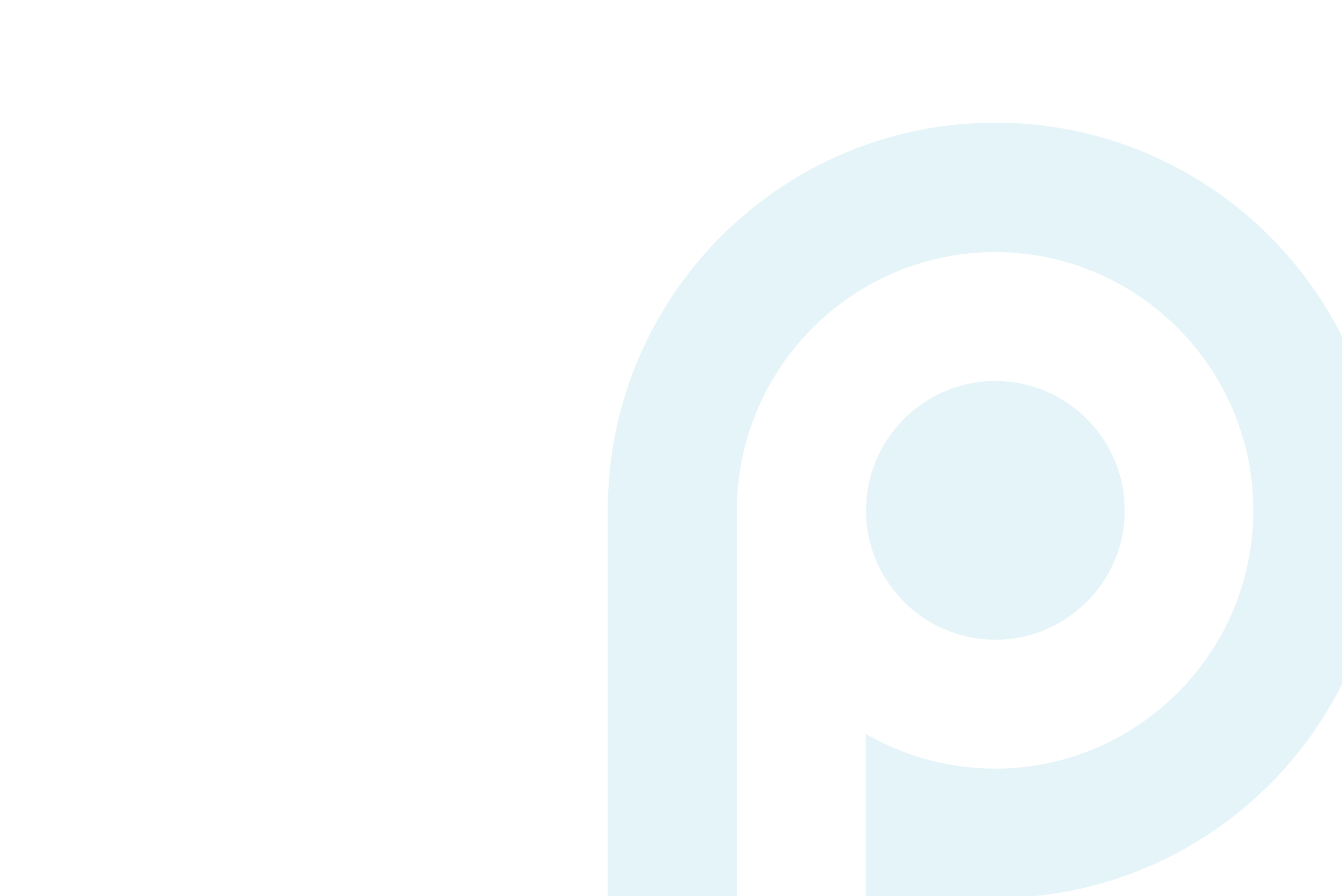 What our clients say
From national pub chains to global insurance, our clients value our expertise and service.
Related courses
Need further fire safety courses? Explore similar courses from our library.