Get access to this webinar today.
This webinar from Praxis42 facilitates discussion amongst our expert panel to answer questions regarding fire, health, safety and compliance challenges faced by our clients and fellow practitioners.
The pandemic has continued to have a major impact on fire, health and safety management, health and compliance throughout 2021.
This online event from Praxis42 facilitates discussion amongst our expert panel to answer questions regarding fire, health, safety and compliance challenges faced by our clients and fellow practitioners.
This webinar focuses on:
Questions that are submitted prior to the event, ensuring we tailor the content to your needs and challenges.
Issues and challenges faced across 2021, such as agile, flexible and hybrid working, fire safety, modern slavery and COVID-19 safety.
What to expect as we approach 2022.
If you would prefer, you can read the transcript here:
Webinar transcript: Panel Q&A 2021
Tom Paxman  00:05
Good morning, everybody and welcome to the end of year q&a on expert views and compliance topics that are challenging you. I'm Tom Paxman, the managing director of Praxis42 digital, and today I am joined by our expert panellists.
Mike Stevens, CEO and chartered safety practitioner. Mike is one of the founding directors of Praxis42 and has worked in health, safety and compliance for over 35 years. His previous roles include being part of the Occupational Health Safety and fire department at Mercury communications and Cable and Wireless and before that, as a consultant at RoSPA, and Adam Clarke, who is the managing director of consulting at Praxis42, and Adam has had a background in occupational health, safety, and fire for over 15 years working with his clients to understand their challenges and then supporting them and understanding their compliance needs, and tailoring bespoke solutions to fit.
So, before we start, just a little bit of housekeeping, your mic will be muted, but there are buttons at the bottom of your screen where you can learn more about today's speakers and asked questions. We will have downloads related to the event that we will be able to share with you afterwards and you can share on social media, a recorded version of today's webinar will be available afterwards, and the link will be sent to everybody who signed up. And before we get into the q&a session, Mike is going to briefly reflect on 2021 and look ahead to 2022. So over to you, Mike.
Mike Stevens  01:49
Thanks, Tom, thanks for the intro and hosting this now. Thanks, everybody, for joining in. This says Tom says is our last webinar. It doesn't seem long ago since we had the one for November. And we've got some very interesting questions which we wanted to feel. So, one of the things we wanted to do was also to reflect on what we've saw in 2021 give you a flavour of what we see as a health and safety consulting team. Providing software as a service as well.
So just give you a background to that. But also, to give you a feel of what we think are going to be issues for the future for next year. So, I think everybody's had a similar sort of issues around how do we cope with our day-to-day management of health and safety. But with the backdrop of something which is probably taken a Sideswipe at our safety management system and wellbeing programmes. And the overlay of that is that working with our colleagues in HR, more and more about this shift towards agile and hybrid working, which has challenged a lot of organisations, in particular, those that may not have had this sort of approach in the past.
So, what we're seeing is that there is more and more acceptance of the agile and hybrid working model. And there are some challenges around that. But there are also some solutions as well. And there's some benefits. So, I don't think it's going to go away. I think it's obviously something which we've moved into Plan B now where we've got more people working at home or working in a in an agile sort of way. So that's looking towards the future. It's going to be more of that, but also how well did we cope with it this year?
I think, primarily it's been dealt with in a very professional way in terms of people having seen all the issues, they've looked at the stakeholders that need to be involved, like HR partners, operational teams, facilities and bring brought those together. So, think from the health and safety point of view, how practitioners and how our profession has dealt with that it's been exemplary in trying to help make things happen. Which is great.
Obviously, there's been much more use of technology in terms of team using teams and zoom, rather than getting in the car and travelling. That's got a massive impact to think in terms of the way forward. But also, in the last 12 months we've seen benefits of practice for to table we've also seen that for our clients as well. And the travelling elements of courses that vehicle driving, when you think that most organisations have their one of their biggest risks is about car use and travelling on the road, then that's had a massive impact on the risk profiles within organisations. And it's just that recognition that also that when people start to go back and start to travel again, that's something that needs to be taken to come considerations because people have not been used to doing that. And the fatigue relating to travelling and the time of day that the travel, I think that's important to take into consideration.
We've also seen integration of systems, where platforms have been able to be integrated to provide a holistic approach or a combined approach. And things like Single Sign On are becoming more and more prevalent during that period. And we've had lots of experiences of doing that. And we've also seen it organisations have been reflecting on how they make sure that they are being compliant, and this title refer three lines of defence become more apparent when we're working with clients to help them with that elements have it in terms of our assurance programme and how we go about doing things.
Next slide, please. So, what we're experiencing now courses and like return some more restrictions and controls, which is which is evident. I think we've got what we what's happening at the moment, and there's going to be more going forward. And there'll be announced by the governor, I'm sure. Is there going to be a more of a push to encourage non vaccinated employees within the workforce? are employers going to be asked to take more of a lead in that? And that's going to be quite a challenging activity to try and encourage those 30% or so that haven't had vaccination?
How do we get to that stage, so our employees are going to get challenged with that? fire risk assessments in competency, there's a competency framework, which is coming out now about how to appoint fire risk assessors and how to ensure that they are competent. And that's going to be something which we're going to be talking about more and more with our clients. And those people which are interested in listening, we've got to say, and there's going to be the ever-growing wellbeing agenda, which is going to take part of people's programmes going forward, we're guessing.
Tom Paxman  07:06
Thank you for that mic. So, let's move on to the q&a session. We have already had many questions in but if you do want to send in a question during the webinar, we will do our best to get to it and if we don't have time to answer it today, it will be answered after the same the session and sent out as part of our resources pack.
So on to our first question. So as an organisation, we are moving to a hybrid way of working from 2020. To on, whereas pre pandemic I could rely on a fixed cohort of First Aiders and fire wardens in our offices. Going forward, there will be a different there will be different groups and numbers of staff attending our offices, including any some or none of the First Aiders and fire wardens. Is the panel able to share a pragmatic solution and how to effectively ensure adequate first aid and fire safety provision in a hybrid working environment? Mike, I think we're going to pass that one on to you.
Mike Stevens  08:07
Yeah, that's so thanks to me, I think is we've had a bit of a conversation about it in the office just to the virtual office. In terms of how to answer this one, you can see that there's a lot of complexity in an office about who's going to be in when are they going to be in finding pragmatic way of dealing with it.
I don't think we're using pragmatic here or we can use pragmatic here in terms of it being an easy solution that sort of suits what needs to what suits the organisation at a particular point in time. The requirement is, as always is about you must review your arrangements on a regular basis. That's always part of your management system. How you manage to make sure that you have adequate first aid is about having to plan and making sure that the operational part of the business organisation those that have responsibilities for the office, have a plan in place to make sure there is cover and making sure you have a combination of that is really important, the same few fire safety arrangements so that if your fire wardens, for example, or fire marshals, and the building emergency officer are in place in the event that you need to evacuate the premises, even with lower numbers or the same numbers, that still has to be there.
So, you can't find it's not there's not going to be that simple approach to it. So. So the answer to that is that you need to review what your arrangements are given these the conditions that you're in as part of this hybrid and agile work in that you need to always look at your arrangements and re define them. And just to give you an example of a case study recently or a client recently who said what they're going to do is they're going to make sure that everybody can take on those roles, so that whoever's in the office can do that. And that's quite a sort of have a big commitment because there's training information. So, it's all part of that that management approach. So how do we make sure that we've been compliant and we preventing harm.
Adam Clarke  10:11
And just to add into that, I think, you know, the communication piece is, is really vital to any approach going forward, there isn't really an easy answer to it, you know, larger, larger workplaces that are well set up with, you know, either technology based solutions to support or quite in depth, coordination, you might have better ways of dealing with this. But at the very low level, when we're dealing with quite small offices, I think it's about making sure that everybody takes everybody takes part, and everybody's general awareness for both fire and first aid is a little bit heightened than where it has been previously.
And in the same way, where we account for teams, making sure they've got cover when they're on holidays, that we've had some kind of emphasis on the teams to make sure that if they've got a representative who's supposed to be fire warden or first aid, that they take some ownership of that in conjunction with the overall coordinators to try and make this work.
You know, from what I've seen out there, the organisations are trying various, different approaches. And we'll probably find out next year, you know, what, what of those approaches are the most effective as we move forward?
So, yeah, there isn't, there isn't an easy answer. But as Mike said, it's about looking at your own, your own organisation, the profile of people who are working in there, what your flexible working approach is looking like, and you know, trying to tailor something to fit but recognising that you might not get it right first time, and you need to continually tweak it.
Tom Paxman  11:45
Thank you for that both. Let's move on to the second question, please. So quite similar, what are the requirements for first aid and fire wardens in respect to hybrid working? So, we've just looked at it from a plan office environment? I wonder, Mike, Adam, if we can flip this now. And look at it from the angle of those not working in the office? So, let's focus on the most obvious place, which is home working?
Mike Stevens  12:12
Yeah, so I think that's a good way of looking at it on. So same thing really applies is that what we've got going on as people working from home? Part of what we give us advice is that you do need to understand what we do in the event, the first date or ill health, and what the reporting requirements are for that. And how do you deal with that?
We are talking about a lower risk environment. But the same with fire safety in the home. We've all had this will hopefully have had this exposure to making sure you've got a fire plan if you've got. If you have a fire at your home. How do you get out? Who needs to be held to get out? How do you detect that there is a fire? So, it's all good stuff in terms of this, working from home food, sort of you frame it in that way?
Adam Clarke  13:04
Yeah, and I think just to resonate with you there, Mike, it's kind of keeping it simple, you know, your, your home is your home, we don't expect you to be putting up fire exit signs around. But being mindful of where you're, where you're going to where you're going to go in the event of emergency. And bear in mind from a first aid point of view, whilst you'd like to think that there aren't gonna be many incidents occurring whilst you're in front of your computer, you may be alone working.
And just to be aware of that, you know, the most common cause of fire is still cooking. So, you know, just be aware if you're going to go take a break and start doing some cooking that, you know, keep your eyes focused on that whilst you're whilst you're there and try not to get distracted. But other than that, this, keep it simple.
Tom Paxman  13:49
Thank you both again. Next question, please. Okay. So, along the same theme, what are the requirements for DSE equipment for peripatetic workers? So here we're talking about agile working in a variety of environments? Mike can start with you on that one.
Mike Stevens  14:11
Yeah, just once broadness so intensive peripatetic, when we're talking about those that could be engineers that are working in, in and around clients' locations, where you're talking about people, which might not have a base, necessarily. So how do we cope with those things? Which is technology, I guess, so are their users as defined within the regulations?
Let's look at it from the point of view that want to want to make sure that we're going to do to make sure that they are able to use equipment in a safe manner. So, it's work equipment at the end of the day, where they can use it, and making sure that it's able to achieve comfortable posture. So, some basic ergonomics here about that. But what I suggest is that what the requirements would be EEG is based around a task analysis.
So, what are those tasks which the individual undertakes? What are those things which they need important parts of their work to achieve their work activity? What is their equipment? And then what do we do to make sure that there's adequate controls and understanding about how to use that equipment correctly?
Adam Clarke  15:22
Yeah, I think we've seen some quite clever solutions that have come out over the over the pandemic, as more people have come to work from, from home where you might not always have the same amount of space. But you can quite effectively with a laptop and a separate keyboard and mouse, and some very lightweight screen raises now actually have quite a good setup wherever you need to be.
You know, as Mike said, it's looking at the tasks that you need to undertake for those who are working. Agile Charlie, outside of home in the office. And really, for me, it's about how much time you're spending doing it. If you're, if you need to fire up your laptop for only a few minutes to do something, then you can find somewhere quiet may not be the best setup, but for time we're going to be using is going to be okay.
If you have to set up where you can be working for an hour or hour, then we would really expect people to be thinking about what actually how we're going to be comfortable for this for this hour. So, I think looking at those tasks, coming up with simple solutions and communicating effectively should really help reduce the risk.
Tom Paxman  16:33
Great, thank you again. Next question, please. So, a post pandemic world seems some way off, by which time agile, flexible and hybrid working? Will it become second nature to many employers and employees. 70 years of office culture has been turned on its head in two years. In America, several blue-chip companies have pressured employees to return to the office with one suggesting a different kind of compensation may be required if people haven't found their way back into the office.
So, could the panel envisage large UK organisations taking a similar stance at some point in the future? Adam let's start off with yourself on that.
Adam Clarke  17:15
Yeah, good question here. I would say that actually, some point in the future when those questions are being asked now, pre pandemic, being in the office, nine to five was very much the normal, flexible working certainly existed, but really not to the extent that we have now this kind of boils down to two things for me, can we deliver what we need to work flexibly? And can we trust our people, your employees who really trust their people to deliver and have spent time over the last 18 months checking in with them to enable they can work effectively working towards removing any barriers are already well ahead of the game and will continue to review looking for the best way forward.
These organisations are likely to have a much higher retention rate and will more than likely attract more talent because what we've seen now in society is flexibility has moved up the list of non-financial benefits to an organisation, even to the point now where it it's going to become a pre qualifier for some candidates looking for new roles.
You know, it's not a one size fits all approach, by any means each organisation needs to establish, if they can offer flexible working, some roles simply won't fit into that. And then create a framework which can guide their teams to find the right approach for them, like they did at the beginning of the pandemic, having a hard and fast stance that being physically present is the only way to achieve success. And not considering a flexible approach sounds like an organisation which is averse to change and not adapting to the direction of travel.
You know, some people will tolerate this, others will see voting with their feet. And that to me is a real key part of this. It doesn't matter as an organisation, wherever you think people have found that haven't found their way back into the office. It's about it's about people. And if you want to retain your people, my view is that you've got to have a flexible approach.
Tom Paxman  19:20
Thank you, Adam. Mike, anything to add to that.
Mike Stevens  19:24
I think that's just the way I do things. There's just a couple of surveys going on at the moment on LinkedIn, which are quite interesting. Just to take a view about are people wanting to come back into the office, some are, are people wanting to come back to the office full time, some aren't. And I think if you think about the population out there, I think you just need to listen and understand how you can accommodate them. So yeah, completely endorse what Adam is saying. And, you know, we've got part to play in it as practitioners to try and help that to be Use case without harm to individuals.
Tom Paxman  20:04
Thank you. Next one, please journey. So collaborative efficiency. So, the speed in which a group complete a task or solve a problem is ideally suited to an office environment. Our Microsoft Teams and zoom meetings are worthy replacement or a catalyst for short sighted solutions, negative cultural change, in other words, digital meeting after digital meeting and a stressed workforce lacking in direction and motivation.
So, I'll take this one if that's okay. So, my view on this is that we ought to look at this through the lens of post pandemic, because at the moment, there's little choice in how some of the meetings are being conducted. So you, you do the best you can over these, these mediums for meeting, if we were to move forward to, to a post pandemic world, or certainly a world of normality, where we have been to a degree where office working is, is easy, then it's worth maybe considering about office time and collaborative spaces, so that face to face meetings can be carried out, effectively, but also accepting that these virtual meetings now do play a significant role in in how we conduct our everyday interactions.
There are huge benefits to online meeting, for example, if you look at your typical salesperson, that there is both environmental and organisational risk benefits from that individual not to getting in the car and travelling 150 miles for an hour and a half meeting. It makes much more sense. That's not to say that the that that type of meeting will never occur again. But it makes huge sense.
If, however, you're in a product development phase, in in, in a manufacturing organisation, that collaborative face to face workshop approach, it's difficult to beat that. So, you know, this blended approach to face to face meeting and collaboration and online. It clearly will have a role. But I think it's all about choosing which medium best works for that meeting that's required. Adam, anything to add to that?
Adam Clarke  22:31
Yeah, and I think in terms of picking up on the stress for the stressed workforce. For me, again, it comes back to having some, some arrangements at an organisational level of what the what the expectations are. And we've all been in that situation with a Zoom meeting on back-to-back to back and you think, oh, what point am I going to get to go and get something to eat or use the facilities. So, we need to be sensible with how we approach it. And I think this is down to, you know, at an organisation level giving, giving an overview of how it should be done. And then and then at the team level to work out how that's going to operate? Because you might find some teams that actually the young with no children, actually they can, they can work in the office quite well together all of the time.
Other teams where you've got, you know, parents, it's about well, okay, can we all find one day a week that we can be in the office and do as Thomas described, we'll use it not won't worry about the day to day then we'll focus when we've got that time to work on those collaborative elements, which are that that much harder, but it's for me, it's about everybody being very clear on how we're going to approach it. And again, just more frequent checking in, there's just something that is so much more difficult when you're working remotely, but we've got to work hard at it.
Tom Paxman  23:50
Thank you. Next one, please Jodie. So, the culture of a company or organisation is often reflected for better or worse in its office culture. Assuming an organisation has a positive culture that it wants to maintain and build on, how does it manage or impose this culture when offices are no longer the default place of work? Adam?
Adam Clarke  24:16
So, this very much continues from the previous question. I mean, for me culture, of an organisation is underpinned by the shared values and behaviours moving to this hybrid way of working require it does require a different approach. And frankly, more effort needs to be put into maintaining that culture. You know, the element of those two which appears to have been missed, or perhaps not defined is the behaviours we were expected to adopt. When working from home. We're hopefully very clear on what those behaviours are expected of us when we're in the office. But these can be very different when we're at home.
When we've got you know, different environments, different potential distractions, and these can be very different from an organisation for all analyzation but they need to be defined to help, both current and new employees understand the approach. So, you know, for example, what, what core hours am I expected to be at my desk? You know how do I communicate with my manager and my team? During hours outside of hours? Simple things am I expected to have my video on permanently? Do I have some flexibility in there, you know, and dress code amongst a list that I could probably go on for, for some time.
You know, having some guides around how those fit in with the organization's culture will at least give people an understanding of what that might look like. Otherwise, people will generally interpret things in their own in their own way. Once you've kind of set that charter or guide of how you want that to do then the organisation needs to continually check in with, you know, managers with teams to see if this is this still right? Does it still feel? feel okay.
And that major difficulty with being at home versus being in the office is that kind of on-the-fly conversations that you have with people where you can, you can just check in or even, you know, picking up on people's body language? You know, it's not, usually can't, can't just do that. Virtually. So, needs more, needs more planning, and needs more thought, to make sure that it goes in the way that an organisation would want it to. So yeah, it's effort again, and I'm just checking out the temperature of your workforce.
Tom Paxman  26:36
Thank you. Next one, please, Jodie. So physical, presenteeism has long been an issue in many workplaces, is digital presenteeism, next, if so, how does an organisation combat this, assuming it wants to?
So presenteeism, so we can all you know, think back to examples of colleagues or even ourselves attending the office pre pandemic, where we were a little bit under the weather, got the sniffles. But you for all the right intentions still turn up to work to do your time. And interestingly, my observation is that the pandemic seems to have solved that issue.
Whereas, you know, somebody used to have, for the best intentions, a badge of honour turning up when you're not feeling well, almost. Now we self-regulate in terms of if you're feeling unwell, if you have any symptoms, the preference from your colleagues is that you avoid the workplace, because we don't want to share in your virus.
So, I think probably from an office point of view, that has possibly solved itself, flip that round to, to the home environment. And I'm sure that it will, it will represent as much of a of an issue as presenteeism did in the workplace. So, for me, it's all about communication and making sure your colleagues are fully aware that if you're not feeling well, or certainly not well enough to work, you shouldn't be working, it's no different to when you're in the office. Adam, have you got any thoughts to add to that?
Adam Clarke  28:18
Yeah, I think for me, it's also giving managers more tools in their toolkit to help them work harder at this, it's again, you know, when you're a manager, and no doubt, there's lots of things that you've got to be thinking about when you're physically with someone in an office, it does give you opportunity to, you might pick up things that because they're physically there, when you might go a few days without actually seeing someone virtually or talking to them, you know, messages that come through on teams, you it's just a message you can't understand, you know, what was what someone feeling like when they sent that message.
So we've, we've just got to be really conscious of, you know, from a manager going forward with an agile working is that you know, you need to be checking in with everybody, almost, almost daily, even if it's only just a message and, you know, we discussed ahead of this webinar of the usual things well, we, we say to people, if you're not if you're not feeling it, you know, just get in touch but I think we will agree I'm going to flip it the other way.
We just need to be regularly asking people something very simple, how are you today, something as simple as that. And then let someone respond back to it and it's doing that more because mental health and wellbeing is very much on our, on our agenda and very much here to here to stay. You know, most of us haven't even really recovered from the pandemic. We're still living it. So you know, we've got to be very mindful of that. And again, just keep talking.
Tom Paxman  29:51
Thank you, Adam. And that's helps to answer one of the questions that we've had come in during the webinar about mental health and UK out how you look at that from remote working. But we will answer the rest of that question after the session.
I think we've got time for just one more, please, Jodie. How can an organisation keep up with audit auditing all the legislation required to operate in accordance with the law? We have regular audits but find it extremely time-consuming to go through every topic across all sites on a rolling programme. We use a third party to identify the laws but need an audit internally to ensure it's implemented. Now, Mike, appreciate this is probably not a short answer. But if you could do your best within the time, we've got that would be brilliant.
Mike Stevens  30:35
Okay, Tom? Yeah, fine. I think when we first saw this one, it was a bit about why it is about the legislation and not about what your management systems trying to achieve? The law helps us to understand what the framework is that you should be operating within. It's maybe to reflect back on what it is you're trying to achieve within your management system. And the audit then sort of makes sure that those things that you said you're going to do are actually happening, where are they happening? How well are they happening?
And having a legislation registered does help, because you don't want to miss something pretty, it comes back to your risk profiling to make sure that you've covered all those things. So, you know, that's the that's the emphasis here.
And I'd say that, if you if you have an audit, what is it you're trying to achieve with that audit? So, I think that's the My short answer. It seems it's a tricky one, because everybody says, you know, we've got to comply with the law. But I'll use this analogy, again, that somebody passed on to me is that we all know that we need a TV licence. You don't need to know what the legislation is that drives that. So, I think that's the that's one part of it. So hopefully, I was helpful. And whoever answered whoever asked that question.
Tom Paxman  31:57
Thank you, Mike. So, we're now at the stage where we must draw to a close, we've had we do have some more questions that we haven't been able to get to. And we've had some excellent ones that have come in during the session, including a great question on the fine line between business needs and pushing ethics when it comes to talking to your employees about vaccinations, more about carrying out risk assessments in terms of fire. And it's Adam touched on mental health and wellbeing for home workers, and how our practitioners qualified in this area. And also, more about DSE and actual equipment. So adjustable chairs in the home, we will of course, answer those and send those on to you, post session.
So finally, just a thank you. Thank you for joining us. We'll make sure we answer all those questions that come in and send them out to you. And if you do have any further questions, please do send them over. We have another webinar coming up, the first one of the year in January on the 27th and it's about workstation ergonomics. Please do sign up for that, the invites will be going out mid-January. So, as I said any more questions, send them to [email protected]. I just want to thank Mike Adam for their time and Jodie and Tracy for pulling it all together and hosting the webinar. I wish you all a great Christmas break and a good new year and hopefully see you all on the 27th of January. Thank you.
Speakers
Mike Stevens | Chief Executive Officer | Praxis42
Mike, a Chartered Safety Practitioner, is CEO and one of the founding Directors of Praxis42. He has worked in health, safety and compliance for over 30 years, his previous roles include being part of the Occupational, Health, Safety and Fire department at Mercury Communications and Cable Wireless and before that a consultant at RoSPA.
Mike has worked with clients across many sectors including facilities, construction and retail, supporting and understanding their challenges and then working to create and deliver solutions to support and improve the management of risk and compliance in their workplace.
Adam Clarke | Managing Director (Consulting) | Praxis42
Adam is Managing Director of Consulting at Praxis42, having started his career as an apprentice in Occupational health & safety nearly 20 years ago. Adam has previously worked as a Health and Safety Consultant, Trainer and Director.
Adam is passionate about improving health & wellbeing, empowering ownership of risk and utilising technology to make compliance simple. Adam works with his clients to understand the organisations challenges and then supports them in understanding their compliance needs, tailoring bespoke solutions to fit.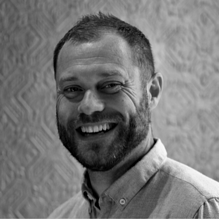 Tom Paxman | Managing Director (Digital) | Praxis42
Tom is Managing Director of Digital at Praxis42, having started his career at Praxis42 as Marketing Director 17 years ago. This depth of experience means Tom has a unique insight into compliance and risk management, having worked with our many partners and clients over the years, to tailor the right service and products to their specific needs.
Toms focus on using technology to support our customers compliance needs, has led to many innovations in our service offering, including our new risk management platform SHINE. Tom's focus is always our clients and providing them with what they need make their risk management simple.