Get access to this webinar today.
Our immersive learning (VR and AR) webinar aims to provide expert knowledge from experienced practitioners and facilitators.
Utilising virtual reality (VR) and augmented reality (AR) for training is becoming a fundamental part of the learning ecosystem for modern enterprises.
Topics covered in this webinar include the benefits of using immersive training, human centred design and how it reduces risk.
This webinar aims to provide expert knowledge from experienced practitioners and facilitators, focusing on:
Overcoming the challenges of implementing an effective immersive training programme.
Improving employee learning outcomes through immersive learning.
How immersive learning is ideal for behavioural change, providing a safe and realistic environment for learners to evaluate risk in its broadest sense.
If you would prefer, you can read the transcript here:
Speakers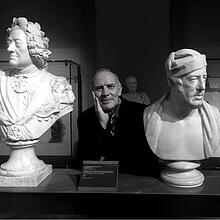 Marco Faccini | Non-Executive Director | Praxis42
Marco joined Praxis42 in 2019, assisting and advising the board on technology, innovation and learning strategy. He is passionate about making a difference in Learning & Development and Education
Marco works with many modern, new and innovative technologies bringing a 'blended' proposition. He is 'immersed' in the 3D, Virtual Reality including e-sports VR, Video-Based learning and collaborative learning arenas helping to educate workplace professionals and bring solutions to life.
Professor Bob Stone | Emeritus Professor (XR and Human Factors) | University of Birmingham
Robert (Bob) Stone holds a Chair in Interactive Multimedia Systems within the College of Engineering and Physical Sciences at the University of Birmingham, where he is also Director of the Human Interface Technologies (HIT) Team.
He graduated from University College London in 1979 with a BSc in Psychology, and in 1981 with an MSc in Ergonomics. Bob also currently holds the position of Visiting Professor in Simulation Psychology within the University of Plymouth.
Lina Srebrova | XR Strategist | Digitalnauts
After earning her master's degree in International Business and Entrepreneurship at the University of Glasgow, Lina entered the XR world to explore her passions for merging the boundaries between business and innovation.
She takes pride in providing leading industrial organisations with future-proof strategies for adopting XR sustainably and at scale.
Mark Baxter | Technical Director and Co-Founder | Digitalnauts
Mark is the Managing Director of Digitalnauts, who helps companies achieve real business impact by giving them the technology and expertise to strategically implement VR training across their organisation.